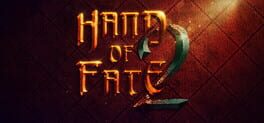 Genre: Indie, Role-playing (RPG)
Platforms: Mac, Linux, Xbox One, PC (Microsoft Windows)
Hand of Fate 2 brings a host of new mechanics to the table, and improves on every element of it's hit predecessor. Companions will fight at your side, new challenges will test your skills, and a swathe of new opponents will fight against you.
Hmm... no websites found for this game. Care to add one?
No lists available, why not create one?
Create new list
Not yet released
Critic Score Unavailable
---