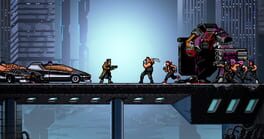 Platforms: PlayStation 4, Xbox One, PC (Microsoft Windows)
In the future, the police have lost control to the mighty gangs who now rule the streets. Where crime is king, the authorities put their trust in hired guns to solve the problem. A price is set on the gang leaders´ heads.
It´s time for the Bounty Hunters — It´s time to hunt ´em down.
No lists available, why not create one?
Create new list
Not yet released
Critic Score Unavailable
---