Similar
20 Games Like

Mosaic

(

TBA

)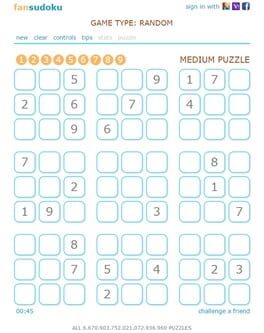 It has nice html5 design. Works on tablets and mobiles, there's no need to download.
Great functionality. Pencil marks are available for hard and expert difficulty.
Keeps statistics and also shows how your time compares to others.
It generates random puzzles from all possible combinations, so there's no chance to get the same puzzle twice.
It provides a way to get back to a given puzzle or to challenge a friend.
Rules of the game and techniques to solve are also available.
Was this recommendation...?
Useful Integer Snake is a puzzle webgame, where the player connects neighboring squares that contain the same number and attempts to build high numbers and attain a high score.
Was this recommendation...?
Useful

"Purrrre fun!" — Snowball, Cat Rocket Science Association
"Owlsome!" — Owls and Bowls Magazine
"Meow" — CatCrunch

Match kitties on the board to make even more awesome kitties, so that they can go to space. Match and Meow!

It's free, so thinking is only required when you play, not right now. Just download it.
Catomic is an extremely addictive and easy to play match 3 puzzle. Combine grumpy cats and busy owls in groups of three to produce new characters. The aim is to help the cats fulfill their dream of space travels.

Match 3 cats and owls, producing new free unique pieces. Help the cats complete historical missions and progress from first manned flights to sending satellites and landing on the moon. Do all the puzzles right, and regular travels to Mars and huge spaceships using jump portals will become a reality.

In Catomic: Space Cats and Atomic Owls!" you help cats go into deep space and help owls build atomic power plants.

Every kitten in C:SCAO is born with a bold dream: to conquer the deep space. They drink some milk, go to school, then university, then build some fancy gadgets, and are quite ready for spaceship construction. Owls on the other hand couldn't care less about space. Their aspiration is power.

When owls and cats meet, the space exploration saga of C:SCAO begins.
Was this recommendation...?
Useful

Back From Hell will launch on Kickstarter on the 1st of November 2016.
https://www.kickstarter.com/projects/1403822981/back-from-hell-a-classic-crpg-puzzle-adventure
​
Back From Hell is an upcoming CRPG puzzle/adventure game set in two worlds: a 15th Century Spanish hilltop town and a journey to the depths of Hell and back again. The player in this photorealistic 2.5D game will fight for the injustice his family has suffered, battling his way in the underworld, and taking decisions which could possibly lead to devastating consequences.
​
In both worlds you will encounter a unique cast of fully voiced characters that bring the world of Back From Hell to life, all interactions and your subsequent decisions will have weight and impact. Conversations will be critical to solving many multiple first and third person puzzles and present the player with many difficult ethical choices as the game evolves. Back From Hell will also have a complex action RPG combat system, with multiple weapons and magical abilities to help you dispatch a wide array of enemies.
Like Sierra's classic Quest for Glory series, Back From Hell merges classic computer role playing game mechanics with point and click adventure style puzzles and exploration. You'll face challenging environmental puzzles in the vein of MYST. Like Planescape: Torment and Age of Decadence the player interacts with NPCs in complex branching dialogue trees where every choice has consequences. Many quests and puzzles have multiple solutions which may affect the characters and game world and ultimately determine the player character's fate.
Was this recommendation...?
Useful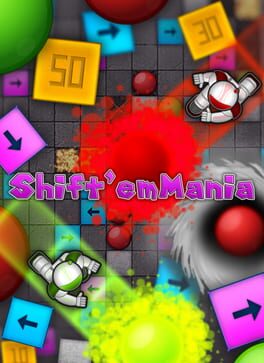 Shift'em Mania is an amazing and fun tactical puzzle game with unique procedural generated levels where you play against AI or another Human.

Your objective is to get your color balls to the bottom of a maze. Well, it's not quite as simple as it looks like. The level is filled with ramps, walls, black holes and your opponent doesn't give an easy time.

Think thoroughly before making each move in order to achieve the highest possible score. Block your opponent by pushing your color balls into strategic positions to stop him from doing the same to you. Use walls to your advantage and collect bonus score. Accumulate Megapower bonus and destroy the obstacles.

If you are self confident try to beat the computer at the Extreme level of difficulty as there will be no space for a mistake.

GAME FEATURES:
- Unlimited addictive gameplay due to procedurally generated random levels;
- Two game modes: Quick Game and Tournament
- Choose the number of balls: 15 or 30;
- In tournament mode choose the gaming session length: 1 Round, 2 Rounds or 3 Rounds;
- Each round implements it's own unique features;
- A large number of obstacles and power-ups;
- 4 Levels of AI difficulty: Easy, Normal, Hard and Extreme;
- Play against other person on the same device;
- Beautiful detailed graphics and effects;
- Amazing background music;
- Hi-score and statistics;
- Simple and easy-to-use controls;
- Recommended for all ages!
Was this recommendation...?
Useful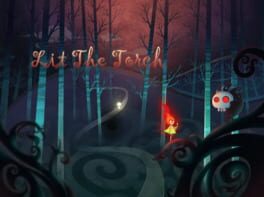 "There are loads of great mobile games getting teased at the moment, and Lit the Torch is definitely one of them."
-Pocket Gamer

Lit the Torch is challenging puzzle platformer with a twist! Players control a Night Watch as they light torches and navigate through a shattered timeline. The twist is that player's can burn a portal into a different time to navigate to new altars and burn a path through obstacles in their time to existing altars.

Key Features:
-Stunning Artwork
-Challenging Puzzles
-Wonderful Story
-Atmospheric Soundtrack
-Brain Bending Puzzles
Was this recommendation...?
Useful