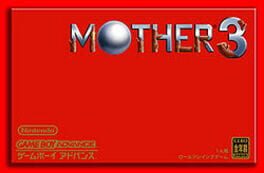 Genre: Role-playing (RPG)
Platforms: Game Boy Advance
Mother 3 is a coming-of-age story about a young boy named Lucas who lives in a utopian village called Tazmily. When the unexpected appearance of strange men wearing pig masks threatens this utopia, Lucas is one of few who does not defect to their new order.
Hmm... no websites found for this game. Care toadd one?
No lists available, why notcreate one?
Create new list
Based on 18
member ratings
Based on 1
critic ratings
---
How would you rate this game?
Join the community to review your favourite games Create your account
Great
This game, has just about everything it needs to be "one of the best games of all time." But it isn't in English. The only problem I legit have with this game is that it isn't in English and it had a fan-made translation of it which kinda made me eh eh about it. But that's pretty much the only thing wrong with game. But anyways, this is how you make a game. You put characters in a world being torn apart and you throw in a story that'll hit your ...
Read More
---