Teenage Mutant Ninja Turtles: Smash-Up Press kit
Description
Teenage Mutant Ninja Turtles: Smash-Up is a fighting video game for the Wii and PlayStation 2 video game consoles. It was developed by Game Arts in cooperation with Mirage Studios and released by Ubisoft in celebration of the 25th anniversary of the Teenage Mutant Ninja Turtles in 2009.

The game is a 4-player 2.5D fighting game, similar to the Super Smash Bros. series. During battle, players attempt to KO opponents by depleting their life bar, knocking them off the stage or into traps.Characters are color-coded on-screen via a glow effect to help players keep track of their character (a feature that can be toggled on and off in the options screen). Like Super Smash Bros., the game features many customizable options for battles.The game stresses interaction with the environment, and stages in the game feature traps, changes to the stage itself and interactive elements. The gameplay system also features items, including life-restoring pizza and ninja skills that grant players special abilities like fire breathing and electrical shields. The modes for this game are Arcade, Battle Royal, Survival, Tournament, Swap-Out, Practice, and Mission Mode, as well as an online mode for four players and mini-games. Players can collect 'shells' during battles or mini-games and use them to unlock special features, including trophies that other players can win in online tournaments. Arcade mode features animated cut scenes illustrated by Mirage Studios artists.
---
Images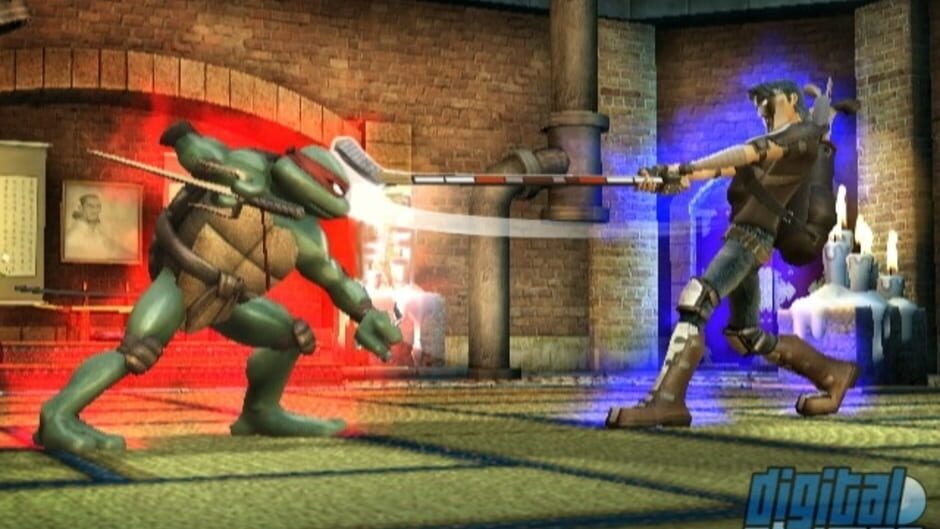 ---
There are far more images available for Teenage Mutant Ninja Turtles: Smash-Up, but these are the ones we felt would be most useful to you. If you have specific requests, please do contact the developer!
---
---
Inspired by
presskit()
by Rami Ismail
(
Vlambeer
)