Initial version
Amiga CD32 (Platform)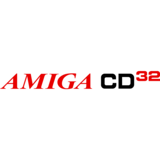 The Amiga CD32, code-named "Spellbound", is a 32 bit home video game console developed by Commodore and released in western Europe, Australia, Canada and Brazil. It was first announced at the Science Museum in London on July 16, 1993, and was released in September of the same year.

The CD32 is part of a family of Amiga computers and other hardware. It uses CD-ROM as its storage medium. It was based on Commodore's Advanced Graphics Architecture chipset, and is of similar specification to the Amiga 1200 computer. Using third party devices, it is possible to upgrade the CD32 with keyboard, floppy drive, hard drive, RAM and mouse, turning it into the equivalent of an Amiga 1200 personal computer. A hardware MPEG decompression module for playing Video CD was also released.

In the Christmas period following its launch, the CD32 accounted for 38% of all CD-ROM drive sales in the UK, exceeding sales of the Mega-CD; however, it was soon overshadowed by CD-ROM based games consoles from other companies, and was discontinued as Commodore went into bankruptcy.
| | | | |
| --- | --- | --- | --- |
| Operating System | AmigaOS 3.1 | CPU | Motorola 68EC020 @ 14.18 MHz (PAL), 14.32 MHz (NTSC) |
| Memory | 2 MB Chip RAM | Storage | 1 MB Kickstart ROM with CD32 firmware / 1 KB non-volatile EEPROM |
| Graphics | RF modulator (RCA) / Composite video (RCA) / S-Video / 24-bit colour palette (16.8 million colors) | Sound | 4 × 8-bit PCM channels / Stereo audio (RCA) |
| Online service | | Output | Headphone jack 3.5 mm / 2 × Mouse/Gamepad ports / RS-232 serial AUX port and for keyboard / Expansion slot behind a plate / Power input / RF audio/video out (RCA) / S-Video out / Composite video out (RCA) / Audio out Left & Right (2 × RCA) |
| Supported Resolutions | From 320×200 to 1280×400i (NTSC) / From 320×256 to 1280×512i (PAL) | Connectivity | |
Games released on Amiga CD32