Mac

Cheetah
Mac (Platform)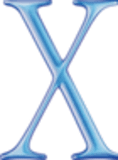 Mac OS X version 10.0, code named Cheetah, is the first major release of Mac OS X, Apple's desktop and server operating system. Mac OS X v10.0 was a radical departure from the previous classic Macintosh operating system (Mac OS) and was Apple's long awaited answer for a next generation Macintosh operating system. It introduced a brand new code base completely separate from Mac OS 9's, as well as all previous Apple operating systems. Mac OS X introduced the new Darwin Unix-like core and a completely new system of memory management. Cheetah proved to be a rocky start to the Mac OS X line, plagued with missing features and performance issues, although it was praised for being a good start to an operating system still in its infancy, in terms of completeness and overall operating system stability. Unlike later releases of Mac OS X, the cat-themed code name was not used in marketing the new operating system.
Release dates:
2001-3-24 (WW)
Developers:
Introduction price:
129 USD
Games released on Mac
Sorting
Rating
Title
Release Date
← Previous
1
2
3
4
...
783
784
785
786
Next →
Aquaria
December 7th, 2007 (11 years ago)
Mac / iOS / Linux / PC (Microsoft Windows)
Just Shapes & Beats
May 31st, 2018 (a year ago)
Mac / Linux / PC (Microsoft Windows) / Nintendo Switch
Sid Meier's Civilization
January 1st, 1991 (28 years ago)
PlayStation / PC DOS / Mac / Amiga / Super Nintendo Entertainment System (SNES) / Atari ST/STE / PC (Microsoft Windows)
← Previous
1
2
3
4
...
783
784
785
786
Next →