Mac

Mountain Lion
Mac (Platform)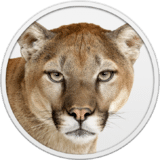 OS X Mountain Lion (version 10.8) is the ninth major release of OS X (formerly called Mac OS X), Apple Inc.'s desktop and server operating system for Macintosh computers. Named to signify its status as a refinement of the previous OS X version, Lion, Apple's stated aims in developing Mountain Lion were to allow users to more easily manage and synchronise content between multiple Apple devices and to make the operating system more familiar. The operating system gained the new malware-blocking system Gatekeeper and integration with Apple's online Game Center and iCloud services, while the Safari web browser was updated to version 6. As on iOS, Notes and Reminders became full applications, separate from Mail and Calendar, while the iChat application was replaced with a version of iOS's Messages. Mountain Lion also added a version of iOS's Notification Center, which groups updates from different applications in one place.
Release dates:
2012-7-25 (WW)
Developers:
Introduction price:
19 USD
Games released on Mac
Sorting
Rating
Title
Release Date
← Previous
1
2
3
4
...
782
783
784
785
Next →
Aquaria
December 7th, 2007 (11 years ago)
Mac / iOS / Linux / PC (Microsoft Windows)
Just Shapes & Beats
May 31st, 2018 (a year ago)
Mac / Linux / PC (Microsoft Windows) / Nintendo Switch
Sid Meier's Civilization
January 1st, 1991 (28 years ago)
PlayStation / PC DOS / Mac / Amiga / Super Nintendo Entertainment System (SNES) / Atari ST/STE / PC (Microsoft Windows)
← Previous
1
2
3
4
...
782
783
784
785
Next →