Ouya

Initial version
Ouya (Platform)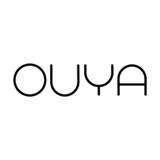 The Ouya (/ˈuːjə/ oo-yə), stylized OUYA, is a microconsole running its own version of the Android operating system, developed by Ouya Inc. Julie Uhrman founded the project in 2012. She brought in designer Yves Béhar to collaborate on the design of the project, and Muffi Ghadiali as product manager to put together the engineering team. Development was funded via Kickstarter, raising $8.5 million and becoming the website's second-highest-earning project in its history.
Units started to ship to Kickstarter backers on March 28, 2013. The console was released to the general public on June 25, 2013, and features an exclusive Ouya store for applications and games designed specifically for the Ouya platform, of which the majority are casual games targeted at or used by a mass audience of casual gamers. Out of the box, Ouya supports media apps such as TwitchTV and XBMC media player. It runs a modified version of Android 4.1 Jelly Bean, and is open to rooting without voiding the warranty (developer models ordered during the Kickstarter campaign for $699 or $1,337 come pre-rooted). The console's hardware design allows it to be easily opened up, requiring only a standard screwdriver for easy modding and possible hardware addons.
All systems can be used as development kits, allowing any Ouya owner to also be a developer, without the need for licensing fees. All games are required to have some kind of free-to-play aspect, whether that be completely free, has a free trial, or has purchasable upgrades, levels, or other in-game items. The Ouya is classified as part of the eighth generation of video game consoles and as such is a rival competing against the PlayStation 4, Xbox One, and Wii U.
After financial issues, Ouya's employees and software assets were sold to Razer Inc., who announced the discontinuation of the Ouya console on July 27, 2015.
| | | | |
| --- | --- | --- | --- |
| Operating System | Android 4.1 Jelly Bean | CPU | 1.7 GHz Quad-Core ARM Cortex-A9 |
| Memory | 1 GiB DDR3 SDRAM | Storage | 8 GB internal flash memory |
| Graphics | Nvidia GeForce ULP @ 520 MHz | Sound | 5.1 Surround, 2Ch Stereo |
| Online service | | Output | HDMI, USB 2.0, Micro USB |
| Supported Resolutions | 1080p, 720p | Connectivity | Wi-Fi 802.11 b/g/n, Bluetooth LE 4.0, Ethernet port |
Games released on Ouya
Sorting
Rating
Title
Release Date
Saturday Morning RPG
Apr 05, 2012
(

...

)
Android / Xbox One / PlayStation 4 / Linux / Mac / iOS / PlayStation Vita / PC (Microsoft Windows) / Ouya / Nintendo Switch
Duck Game
May 13, 2014
(

...

)
PlayStation 4 / PC (Microsoft Windows) / Ouya / Nintendo Switch
Sine Mora
Mar 21, 2012
(

...

)
Android / Xbox 360 / iOS / PlayStation Vita / PlayStation 3 / PC (Microsoft Windows) / Ouya
The Walking Dead: Season Two
Dec 17, 2013
(

...

)
Xbox One / PlayStation 4 / Xbox 360 / Mac / iOS / PlayStation 3 / PC (Microsoft Windows) / Ouya / Nintendo Switch
Read Only Memories
Jul 13, 2014
(

...

)
PlayStation 4 / Linux / Mac / PlayStation Vita / PC (Microsoft Windows) / Ouya
VVVVVV
Jan 11, 2010
(

...

)
Android / Nintendo 3DS / PlayStation 4 / Linux / Mac / iOS / PlayStation Vita / PC (Microsoft Windows) / Ouya / Nintendo Switch
Meltdown
Nov 2013
Android / Linux / Mac / iOS / PC (Microsoft Windows) / Ouya