PC (Microsoft Windows)

Windows 10
PC (Microsoft Windows) (Platform)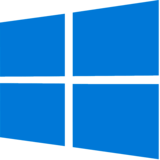 Windows 10 (codenamed Threshold) is an operating system developed by Microsoft as part of the Windows NT family of operating systems. To encourage its adoption, Microsoft announced that during its first year of availability, Windows 10 would be made available free of charge to users of genuine copies of eligible editions of Windows 7 or Windows 8.1.
Windows 10 introduces what Microsoft described as a "universal" application architecture; expanding on Metro-style apps, these apps can be designed to run across multiple Microsoft product families with nearly identical code—including PCs, tablets, smartphones, embedded systems, Xbox One, Surface Hub and HoloLens. Windows 10's user interface was revised to handle transitions between a mouse-oriented interface and a touchscreen-optimized interface based on available input devices—particularly on laplets; both interfaces include an updated Start menu that comprises a design similar to Windows 7 with 8's tiles. Windows 10 also introduces Task View, a virtual desktop system, the Microsoft Edge web browser and other new or updated applications, integrated support for fingerprint and face recognition login, new security features for enterprise environments, DirectX 12 and WDDM 2.0 to improve the operating system's graphics capabilities for games.
Release dates:
2015-7-29 (WW)
Developers:
Games released on PC (Microsoft Windows)
Sorting
Rating
Title
Release Date
← Previous
1
2
3
4
...
2718
2719
2720
2721
Next →
Umineko: When They Cry
August 17th, 2007 (11 years ago)
Mobile / PlayStation 3 / PlayStation Portable / iOS / PC (Microsoft Windows)
Aquaria
December 7th, 2007 (11 years ago)
Mac / iOS / Linux / PC (Microsoft Windows)
The Cat Lady
December 1st, 2012 (6 years ago)
Linux / SteamOS / PC (Microsoft Windows)
Elasto Mania
January 1st, 2000 (19 years ago)
iOS / PC (Microsoft Windows)
Dead or Alive 5: Last Round
February 17th, 2015 (4 years ago)
PlayStation 3 / Xbox 360 / PlayStation 4 / Xbox One / PC (Microsoft Windows)
Dofus
September 1st, 2004 (14 years ago)
PC (Microsoft Windows)
← Previous
1
2
3
4
...
2718
2719
2720
2721
Next →