Windows 10 Mobile
Windows Phone (Platform)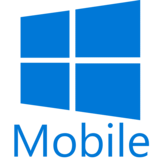 Windows 10 Mobile is a mobile operating system developed by Microsoft. It is an iteration of the Windows Phone product line and a successor to Windows Phone 8.1.

Windows 10 Mobile aims to provide greater consistency with its counterpart for personal computers, including more extensive synchronization of content, a new universal application platform that allows one app to run on multiple Windows 10 devices such as PCs, mobile devices and Xbox, as well as the capability, on supported hardware, to connect devices to an external display and use a "PC-like" interface with mouse and keyboard input support.
Release dates:
2016-3-16 (WW)
Developers:
Other versions

Windows Phone 8.1 is the third generation of Microsoft's Windows Phone mobile operating system, succeeding Windows Phone 8. Windows Phone 8.1 is also the last version that uses the Windows Phone...

Windows Phone 8 is the second generation of the Windows Phone mobile operating system from Microsoft. Like its predecessor, it features a flat user interface based on Metro design language.

Windows Phone 7 is the first release of the Windows Phone mobile client operating system. It received multiple large updates and added a few features backported from Windows Phone 8, such as a more...
Games released on Windows Phone